Fresco's Delicious Mozzarella – Quality Fresh Mozzarella Cheese You'll Love
Fresco's delicious for di latte fresh mozzarella cheese is a pasta filata (stretched curd) cheese that originated in the Naples region of Italy. The name "mozzarella" denotes the method of "cutting" or shaping of the curd into various formats (braided, log, bocconcini, etc.). Made with fresh Australian cow's milk, Fresco's premium mozzarella cheese comes in a conveniently shaped log, ready for slicing onto pizzas, into sandwiches and even into the famous insalata caprese! Expect a milky white, and at times light yellow colour (based on the diet of our happy cows) as well as a mild, creamy taste. Fresco mozzarella is perfect on pizza for that incredible blend of crispy and stretchy texture. Make authentic Neapolitan pizza at home using only the best ingredients. Your next entertaining occasion won't be complete without mozzarella cheese from Fresco!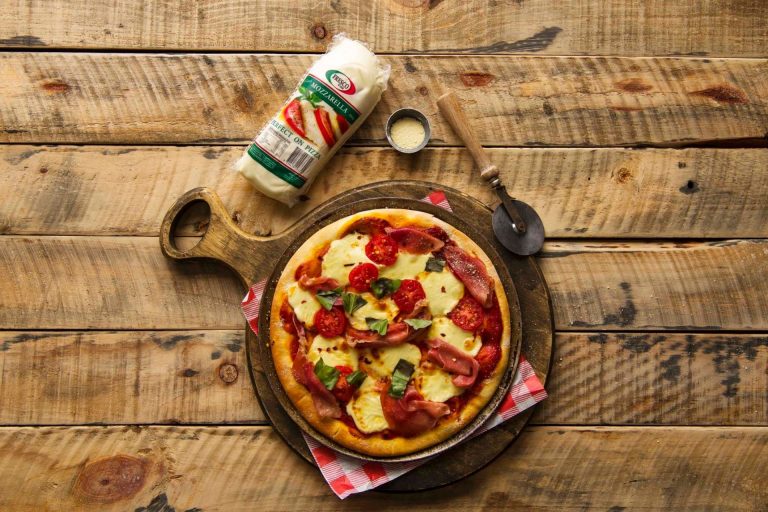 Interestingly, mozzarella was one of the first cheeses Fresco began making back in 1987. We use over 30 years of experience to deliver a high-quality, Australian-made product to our customers.
Fresh mozzarella cheese is perfect on pizzas, in lasagna, or sliced in salads like the Insalata Caprese.
General Nutritional Information
Fresco has been making mozzarella for nearly 35 years. We're experts and it shows in the quality of our products